【終了しました】広島大学CICE・JICA研究所共催公開特別セミナー"Early Childhood Development and Sustainable Future Society"を開催します
広島大学CICE・JICA研究所共催公開特別セミナー"Early Childhood Development and Sustainable Future Society"を開催します を以下の通り開催いたします。
皆様のご参加をお待ちしております。
日時:2019年2月21日(木)14:00~16:00
場所:キャンパスイノベーションセンター多目的室2(2階)東京都港区芝浦3-3-6
最寄駅:JR山手線・京浜東北線 田町駅(徒歩1分)、都営三田線・浅草線三田駅(徒歩5分)
タイトル:Early Childhood Development and Sustainable Future Society
スピーカー:
Lynette Okengo, Executive Director, Africa Early Childhood Network (AfECN)
Mathias Urban, Professor, Desmond Chair of Early Childhood Education, Dublin City University
言語:英語
Concept:
Education is a key enabler for achieving SDGs, and is expected to equip children and all learners with necessary knowledge and skills, both cognitive and non-cognitive as well as values and attitudes. Early childhood development (ECD) as a foundation of education, therefore, has critical roles to play. Success or failure of ECD today determines whether children manage to live fully in the future as the core generation of society characterized by Industry 4.0 and Society5.0.
The seminar invites two globally distinguished experts on ECD and discuss these issues openly with participants.
【申込】
申込フォームよりお申込み下さい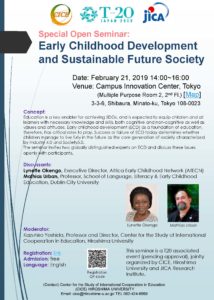 This seminar is a T20 Japan associated event, jointly organized by CICE, Hiroshima University and JICA Research Institute.
For more details on T20, please visit:
https://t20japan.org/